---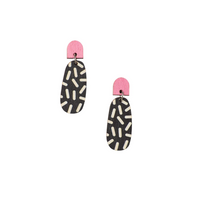 "Neilikka" örhängen i trä av Törmi Design

Material: 
Finsk björkfanér
 och stift i kirurgiskt stål. 
Dessa örhängen är lätta och mycket bekväma.
Undvik kontakt med vätskor.
Förvara dina smycken på en torr plats.
Örhängen finns i en miljövänlig förpackning
Neilikka Earrings by Törmi Design
Materials used for this item are:
Finnish Birch plywood
Surgical steel
Length of earring: 5cm
These earrings are lightweight and very comfortable.
Avoid contact with liquids. Store your Jewellery in a dry place.
Earrings come in a eco-friendly packaging.