---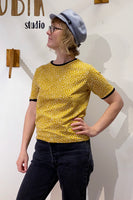 Modell: Retro tee Mustard

70-talsinspirerad T-shirt från vårt eget märke. Skön rak modell med kort ärm och kontrasterande kantband. Sydd i butiken i Göteborg av ett nytt ekologiskt (GOTS-certifierat) tyg i 95% bomull och 5% elastan. 
Senapsgul med vita små fyrkanter. Svart kantband.
Tvätt 30 grader.
Bystmått: S 86cm, M 92 cm, L 98 cm, XL 116 cm
Längd från axel: S 58cm, M 58 cm, L 59 cm,  XL 60 cm
Tights I samma tyg finns HÄR
70's inspired T-shirt from our own brand. Straight model with short sleeves and contrasting linings. Made in Sweden of a new, organic fabric of 95% cotton and 5% elastane. Mustard yellow with small squares and black lining.
Wash at 30 degrees C